---
Aqueous Parts Washing Systems
---
---

---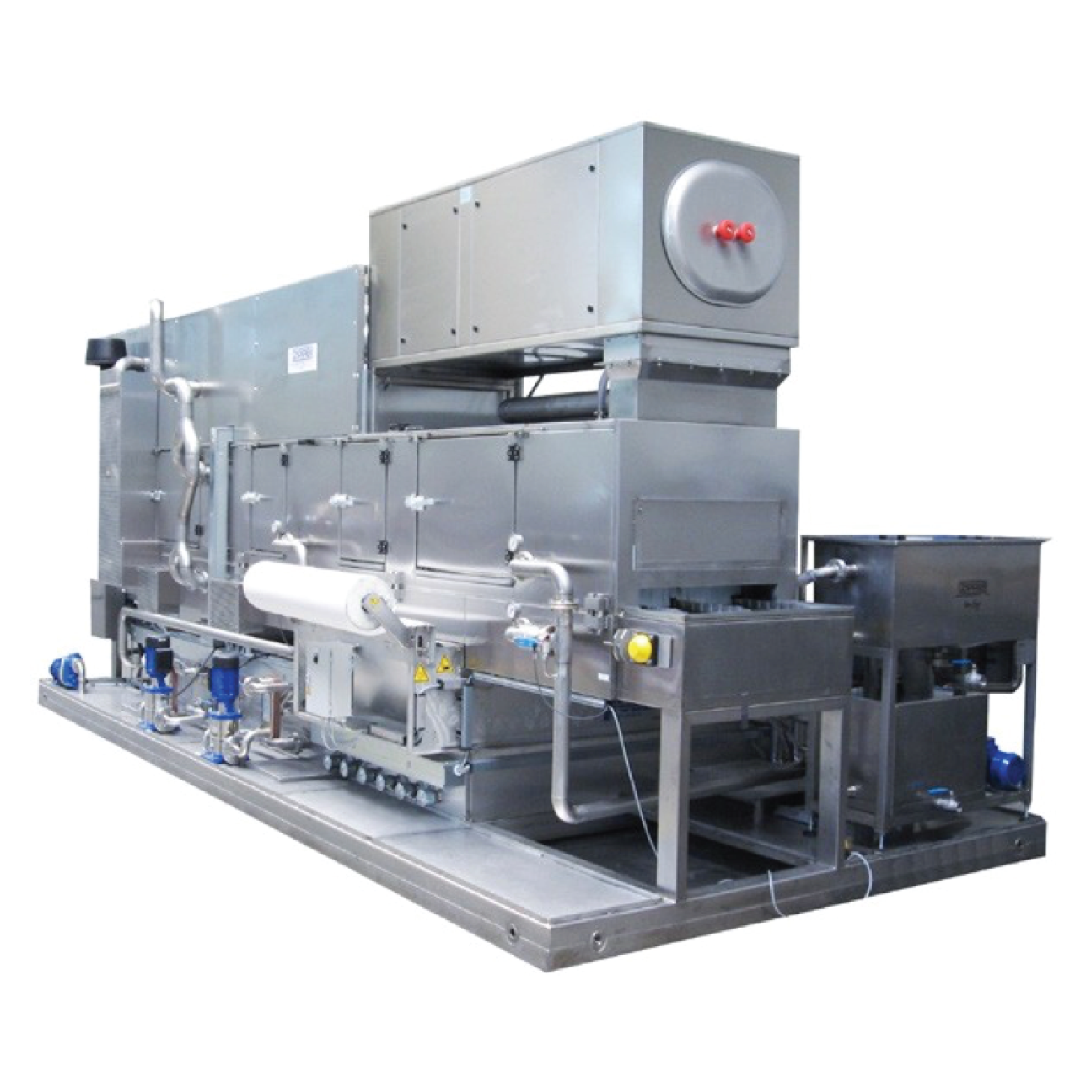 Conveyor / Inline Cleaning Systems ZD
The ZD Series is our innovative response to the increasing diversity of parts requiring conveyor, chain, or fixtured in-line washing systems.  Zippel through-feed cleaning machines can be custom-fit to any production line with fixed speed, variable speed, or indexing conveyor drives.  Cycle time can be adjusted to the operations before and after the wash process to maximize productivity with minimal additional handling of parts.

---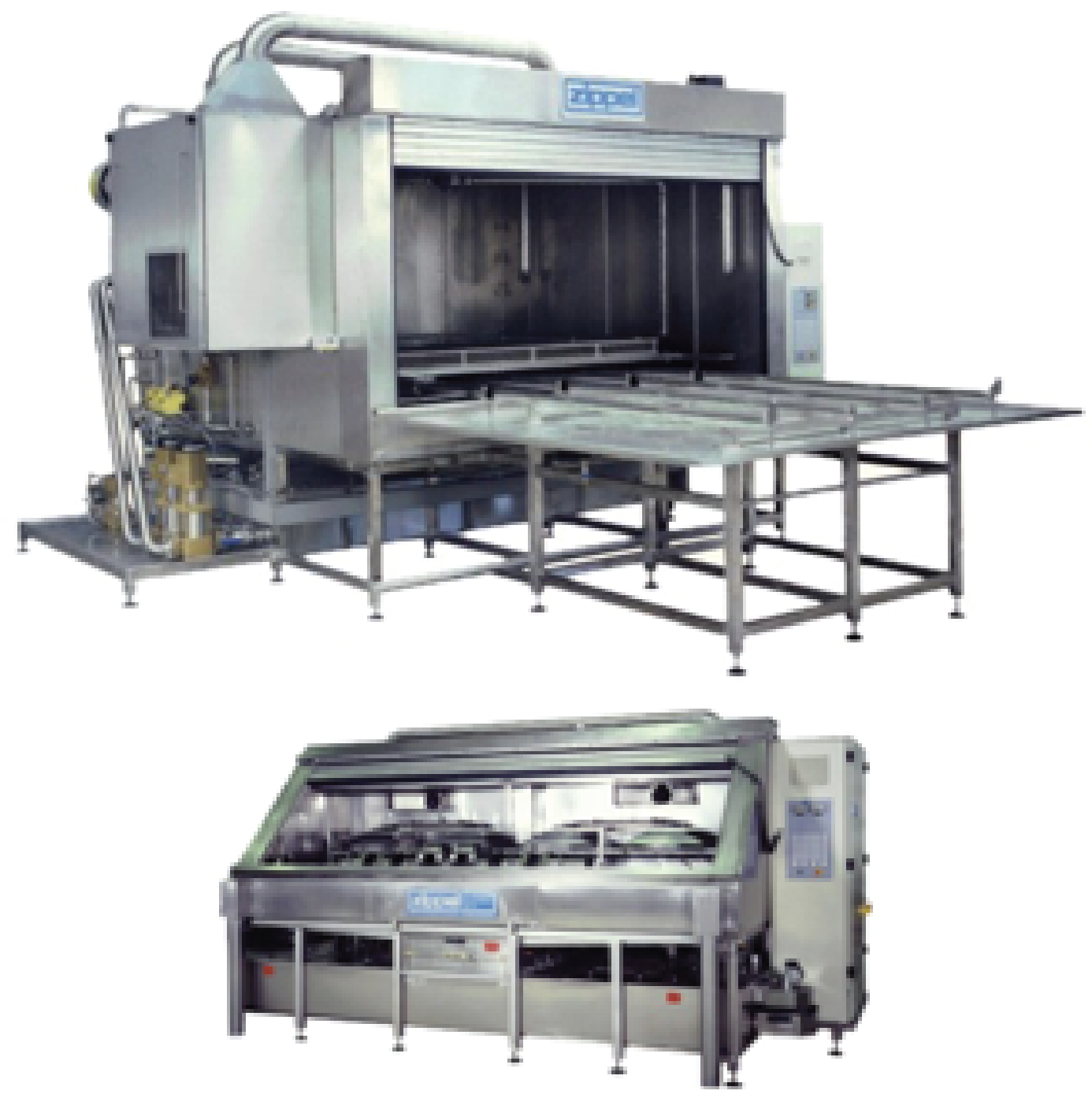 Chamber Cleaning Systems ZK
The ZK Series Chamber Washer provides a cost-effective solution for low-volume cleaning. This single chamber system has an integrated spray cleaning system and offers a wide-range of cleaning processes. A multi-chamber system can be utilized instead of a single chamber to increase throughput.

---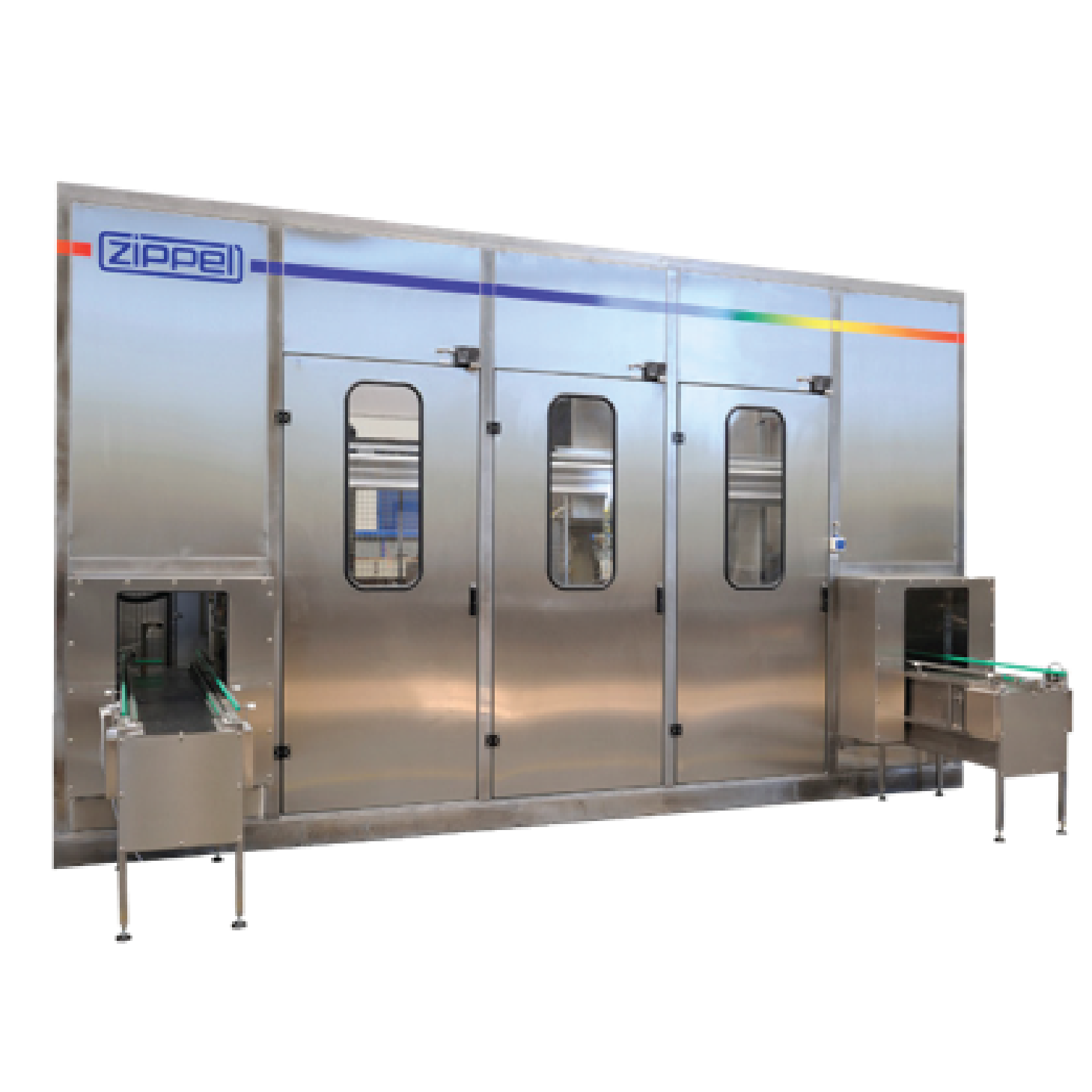 Immersion Cleaning Systems ZT
The ZT Series Immersion Washer offers an ideal solution for both bulk goods and individual components. The complete wetting of the parts through immersion enables difficult part designs with heavy soil-load to be thoroughly cleaned. The cleaning itself can take place using aqueous-based solutions, with or without ultrasonics. Multiple immersion tanks can be placed one after the other to reduce the throughput time.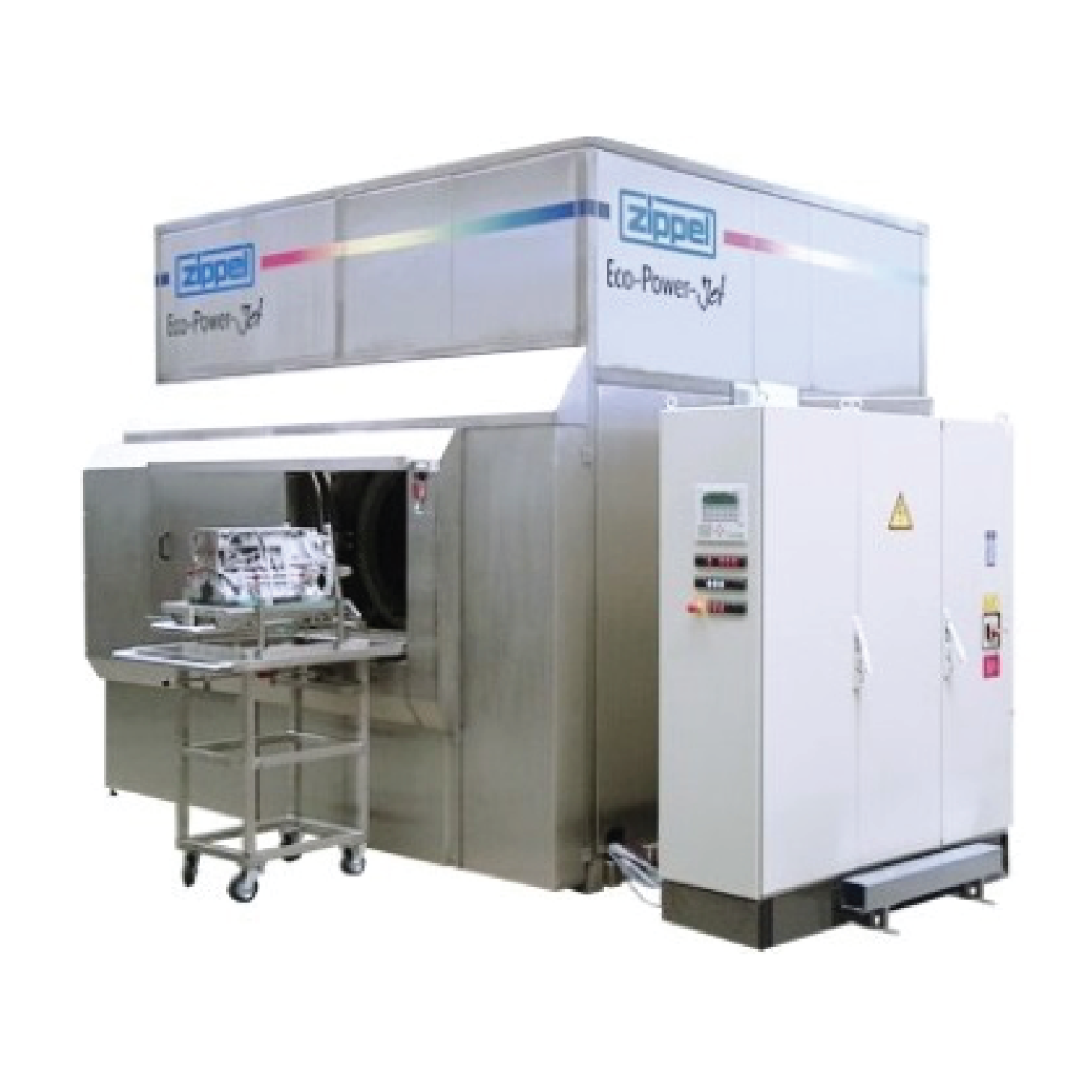 Combined Spray-Immersion Cleaning Systems
The APOLLO series combines the advantages of a chamber system and an immersion system. The cylindrical shape enables the carrier to be rotated and swiveled, thereby optimizing the spraying as well as injection flooding. The cleaning process can be further enhanced by integrating ultrasonics into the wash process. APOLLO 's design also enables different drying modules to be installed, thus allowing it to be adapted to different part requirements.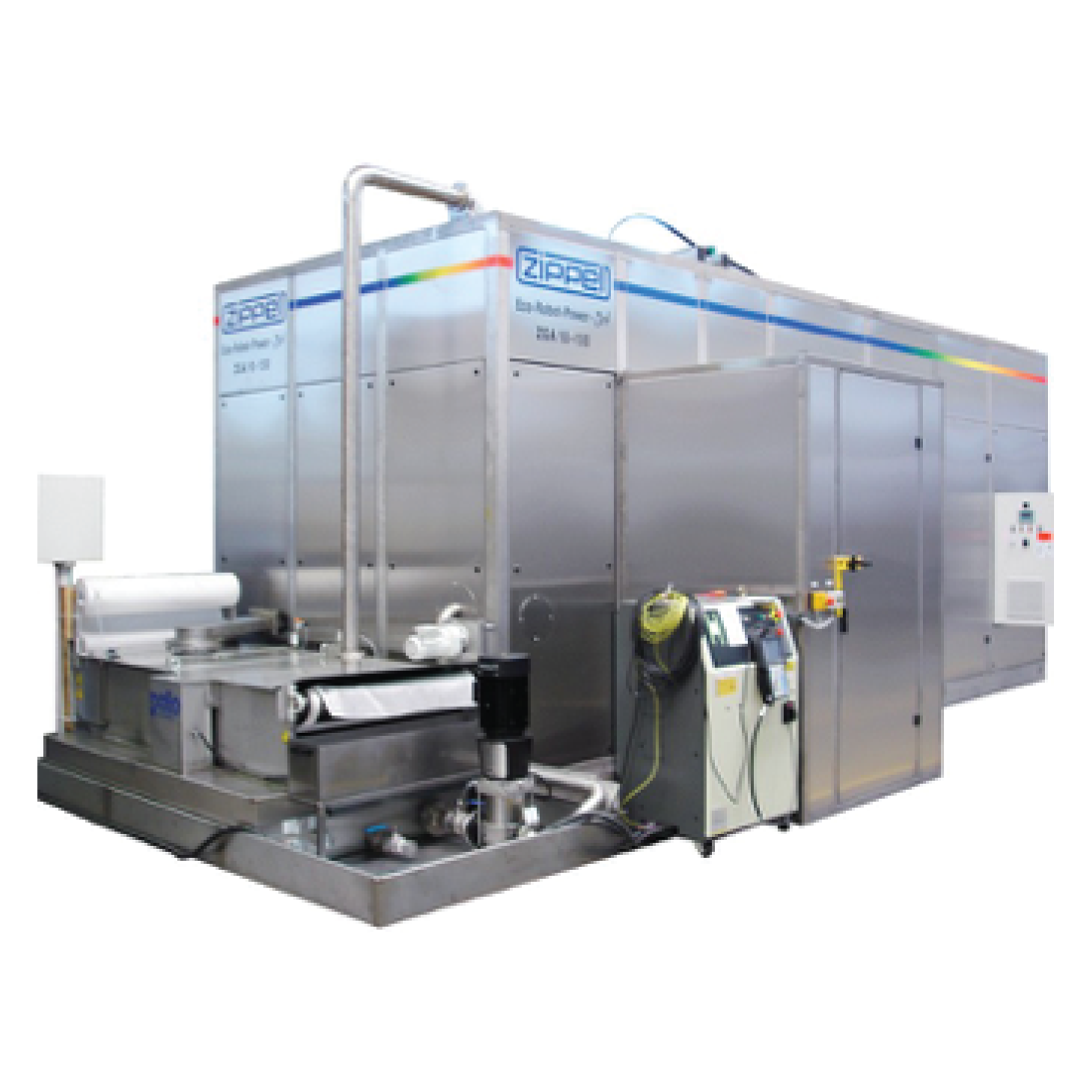 Rotary Transfer Cleaning Systems RT
To satisfy steadily increasing requirements for shorter processing times, Zippel has enhanced the classic multi-chamber system. Machines in the RT Series combine innovative technology with efficient cleaning for parts with the most intricate designs. The RT Series can be integrated with robot systems for loading and unloading as well as a de-burring process to assure the highest levels of productivity with state-of-the-art automation.
---
The increase in environmental protection requirements for industrial enterprises motivates our search for environmentally-friendly methods for preventing air and water pollution. Over the last 40 years, many of Zippel's innovations have been awarded prizes and have redefined standards for water and air treatment. Such inventions combine ecology with economy in an exemplary way, minimizing current costs for energy, waste and recycling.
Our systems usually operate within a  closed loop in all medium-conducting sectors. The closed loop does not channel wastewater out of the machine, rather it feeds it back in after it has been filtered. To lower the costs for disposal of solid waste and reduce it's quantities, there is an option to filter the discharged waste further and discharge it as a concentrate. Closed, segregated loop systems are the best way to lower operating costs such as chemical consumption, water consumption, energy consumption, and heating. We focus on efficiency through energy-efficient planning and design of the components used.